Waukesha Preservation Alliance, along with many other partner organizations, is proud to host Historic Preservation Month, May 1-31, 2021. This annual event brings local history to life for all ages and features several activities that can be done virtually or through social distancing.
Scavenger Hunt:
A Historic Photo Scavenger Hunt Contest, where participants will search through the historic sections of our City to locate small details of buildings, will be available. The top five winners will receive a private downtown walking tour given by Marilyn Hagerstrand at a future date. Click here to to download the 2021 Scavenger Hunt (1mb PDF).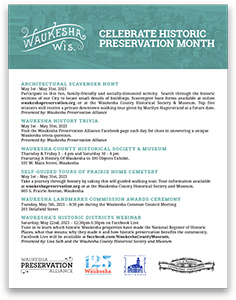 Schedule of Events:
For a complete schedule of this years events, click here to download the 2021 Event Flyer (~1mb PDF). The flyer contains times and locations for all events.